Published on Thu, 2003-05-15 22:31
Can someone please explain this?
Shit, this thing is making me paranoid: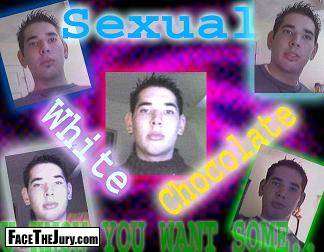 Can anyone explain it. I mean, really, explain this? Fascinating social networking data: click on a few successive favorites, one profile's favorite to another's to another's. What kind of stuff comes up? How long to two mirror one another?
Apparently, my friends Frank and Wes can't visit facethejury.com because their employer blocks the site. They were also blocking the picture (which I was linking directly to), so I'm mirroring it locally. So please, give it another look.
Responses