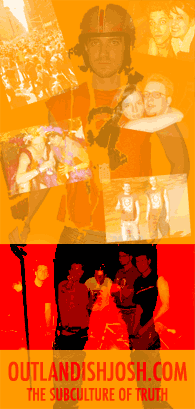 ---
Outlandish: The blog
About: Who is this guy?
Life: The adventure of a lifetime
Art: My church
People: Make it worthwhile
Politics: The art of controlling your environment
Work: Necessity, purpose, honor
Contact: Only connect



Outlandish Bulletin:
Want to (infrequently) Outlandish-up your Inbox? Gimme yr email:


Vintage Outlandish!
This Content From 2003 (or earlier) see index
[archived frontpages] | [the current poop]
Whoops! 'may2002' could not be found. Maybe a dead link? Complain!
I like to write. This is an archive of the frontpage contents, The first year and some change of "legacy" content, a wild and unsorted mess of public-journaling, rants, goings ons and other forms of pap. Explore if that sort of thing turns you on.
Pre-Automation Archive:
[archived frontpages] | [the current poop]
Blogroll: Stuff I read often, other blogs I know and love.
ERROR: http://rpc.blogrolling.com/display_raw.php?r=c9e57b8bb9c852acff2931f6bb75d3e0 is currently inaccessible
Trips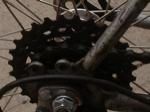 8/02/03

Big Wheels in Berkeley
I scored a set of west-coast wheels today at the Ashby BART station flea market. It's a very tall schwinn road bike, black, deceptively heavy but smooth-riding. Thirty-five dollars to boot. I oiled and cleaned the works, dialed in the bakes and took it out for a shake-down cruise immediately. Nice riding on a beautiful saturday, realizing how out of shape I am as I wheezed my way though the hilly area behind the Berkeley campus.

After about an hour I started to get the swing of it. Made some minor mechanical adjustments (including a free wheel truing at the bike collective on Shattuck), drank a few liters of water and started finding my groove, cruising up and around and ending up with a beautiful view of the whole bay. The roads here are not kind to the speed inclined -- too many stop signs and crosswalks and lights -- but it was good to get out and proj for a while. This changes my summer dramatically.
Smother Me With
Filthy Lucre