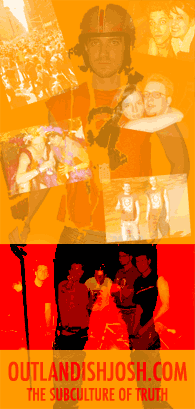 ---
Outlandish: The blog
About: Who is this guy?
Life: The adventure of a lifetime
Art: My church
People: Make it worthwhile
Politics: The art of controlling your environment
Work: Necessity, purpose, honor
Contact: Only connect



Outlandish Bulletin:
Want to (infrequently) Outlandish-up your Inbox? Gimme yr email:


Vintage Outlandish!
This Content From 2003 (or earlier) see index
Bill Bouslaugh (aka "Pa")
Bill on his beloved family farm in Iowa, pictured with a dune buggy. Pure Country Livin'
Bill is my step-father. I first met him when I was three. My mother and I were living on a commune near Hood River, Oregon, and one day he showed up in his blue pickup truck. Next thing I knew, he, myself and my mom were on our way to Iowa. Around a year later my sister Brieanna was born.
Quick, to right to the horse's mouth: Bill's LiveJournal.
Although I knew my biological father (and have learned/inherited many a valuable thing from him), I grew up with Bill as the man around the house. Brie and I called him "Pa". We all lived together in Iowa, Florida and Oregon, where we eventually settled. Those youthful cross-country road trips are still some of my best childhood memories.
Bill's good people. He taught me my disdain for money and the importance of making your life's love your life's work. This past summer he made a big life transition (as did the whole family) and moved back to Iowa, where he's been rebuilding the old farmhouse and enlisting wayward punk children (friends of my sister's) as farm slaves. I will visit there soon.
Bill's also an artist. Someday soon he and I will get it together and I will make him a website for his photography (and others). He wants to create an online gallery where young/amateur/pro photographers can show their work and sell prints as well as a place for him to publish some of his life's learnings. It'll be good.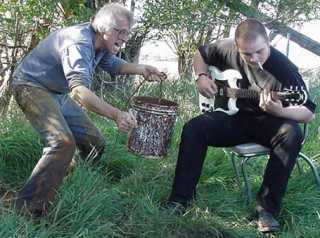 Motivating the youth, cleaning the cistern. The rocker is Jessie, afformentioned farm slave.
[outlandish] | [people]
© Josh Koenig | If you don't want information about you to be here, I respect that. Let me know if you have any problems.
Blogroll: Stuff I read often, other blogs I know and love.
ERROR: http://rpc.blogrolling.com/display_raw.php?r=c9e57b8bb9c852acff2931f6bb75d3e0 is currently inaccessible
Trips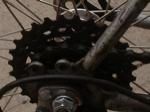 8/02/03

Big Wheels in Berkeley
I scored a set of west-coast wheels today at the Ashby BART station flea market. It's a very tall schwinn road bike, black, deceptively heavy but smooth-riding. Thirty-five dollars to boot. I oiled and cleaned the works, dialed in the bakes and took it out for a shake-down cruise immediately. Nice riding on a beautiful saturday, realizing how out of shape I am as I wheezed my way though the hilly area behind the Berkeley campus.

After about an hour I started to get the swing of it. Made some minor mechanical adjustments (including a free wheel truing at the bike collective on Shattuck), drank a few liters of water and started finding my groove, cruising up and around and ending up with a beautiful view of the whole bay. The roads here are not kind to the speed inclined -- too many stop signs and crosswalks and lights -- but it was good to get out and proj for a while. This changes my summer dramatically.
Smother Me With
Filthy Lucre