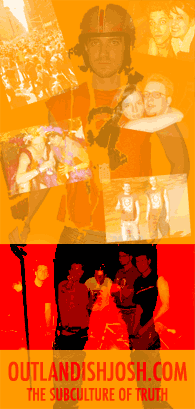 ---
Outlandish: The blog
About: Who is this guy?
Life: The adventure of a lifetime
Art: My church
People: Make it worthwhile
Politics: The art of controlling your environment
Work: Necessity, purpose, honor
Contact: Only connect



Outlandish Bulletin:
Want to (infrequently) Outlandish-up your Inbox? Gimme yr email:


Vintage Outlandish!
This Content From 2003 (or earlier) see index
David Mason Pearre
Dave is one of my oldest friends. I met him in that strange time in my life when I was transitioning between Waldorf school and public high school. Dave was a year older than me, so he could tell me what it was like. He was the one who got me a modem for the first time, back when going "online" meant logging on to a BBS system and it was a real subculture thing. When we were kids, we were video game buddies. I used to go over to his house and we would play civilization for hours on end. He has a little half-brother Alex who was 2 or 3 at the time who was always good for a laugh. Last time I saw the kid he was pushing 12, getting ready to get into girls and all that kind of trouble.
These days Dave is living in Chicago with his extra-cool girlfriend wife(!) Jessica, the one true and honest rudegirl from our high school in Eugene, employing his considerable talents in the same sector as me. He's a lot better at graphic design than I am (see his site: pearredesignprojects.com), but I know at bit more about the voodou of open-source coding. We share work, stories, and drinks whenever I'm in town. He's one of the good people
[outlandish] | [people]
© Josh Koenig | If you don't want information about you to be here, I respect that. Let me know if you have any problems.
Blogroll: Stuff I read often, other blogs I know and love.
ERROR: http://rpc.blogrolling.com/display_raw.php?r=c9e57b8bb9c852acff2931f6bb75d3e0 is currently inaccessible
Trips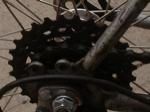 8/02/03

Big Wheels in Berkeley
I scored a set of west-coast wheels today at the Ashby BART station flea market. It's a very tall schwinn road bike, black, deceptively heavy but smooth-riding. Thirty-five dollars to boot. I oiled and cleaned the works, dialed in the bakes and took it out for a shake-down cruise immediately. Nice riding on a beautiful saturday, realizing how out of shape I am as I wheezed my way though the hilly area behind the Berkeley campus.

After about an hour I started to get the swing of it. Made some minor mechanical adjustments (including a free wheel truing at the bike collective on Shattuck), drank a few liters of water and started finding my groove, cruising up and around and ending up with a beautiful view of the whole bay. The roads here are not kind to the speed inclined -- too many stop signs and crosswalks and lights -- but it was good to get out and proj for a while. This changes my summer dramatically.
Smother Me With
Filthy Lucre