It's fun to Sin!
"Happiness lies neither in vice nor in virtue; but in the manner we appreciate the one and the other, and the choice we make pursuant to our individual organization. "

-- Marquis de Sade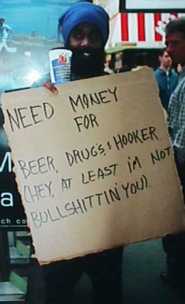 Here's somebody who has the balls (or wit) to tell it like it is. Photo by Brie, in times square.
Sex, Drugs and Rock & Roll: Parental Discresion Advised
Before we get into it, let me say the title this section is meant to be tongue in cheek. I don't really believe in an objective concept of Sin. Basically I'm a libertine, believing that you have sovereignity over your own body and mind, and are entitled to do with them what you will providing you don't infringe on another's freedom to do the same. That includes any mutually agreeable (aka consensual) activities with another sovereign being with the same caveat about not restricting anyone else's thing.
That being said, these are the sorts of things that tend to get people into trouble. That's why most societies at one point or another try to crack down and control them. However, I think that's a bunch of crap and tend to take issue with such regulations. Ultimately, it is the individual who is responsible for his/her behavior, and the individual should be given free range to take that responsibility.
Besides, this is the fun of reading biography: the salacious details. Enough Yappin', get to the juicy stuff! Here are my 7 deadly sins in order that I tend to succumb.
Food (gluttony)
Hubris (pride)
Money (greed)
Violence (wrath)
Envy (envy)
In the future I'll link all these out so you can surf around my morally squalid existence, you perv.